4 ways the Shoe Mission is about more than just shoes
Shoes allow us to get through our daily tasks without having to think about hot concrete, cold snow or rocky roads. But what if you don't have the right shoes or any shoes at all? Bill Gates said it was the lack of shoes he remembers most about visiting different countries. People so poor and with no shoes inspired one of the richest men in the world to fight poverty.
Shoes are important. This is why CERI has provided over 100,000 winter boots over the past 20 years to orphans in Eastern Europe. This year's Shoe Mission will continue the tradition, but it will do more than provide shoes. Here are 4 ways the Shoe Mission is about more than just shoes.
1. The Shoe Mission gives orphans an opportunity to grow in a loving family
The Shoe Mission helps children living in foster care and orphanages have a warm pair of boots for winter. But what these children need most is a family – the warmth of a home and the love of parents.
Through the Shoe Mission, we meet over 5,000 children waiting for a forever family. After our trucks drive away and volunteers fly home, CERI begins building relationships with the children and orphanage staff we met during the Shoe Mission. This is the start of our long-term work to ensure every one of those kids who received a pair of boots has the chance grow in a loving family – an orphan's greatest wish.
Being a part of the Shoe Mission makes you a part of the lifelong impact in children's lives.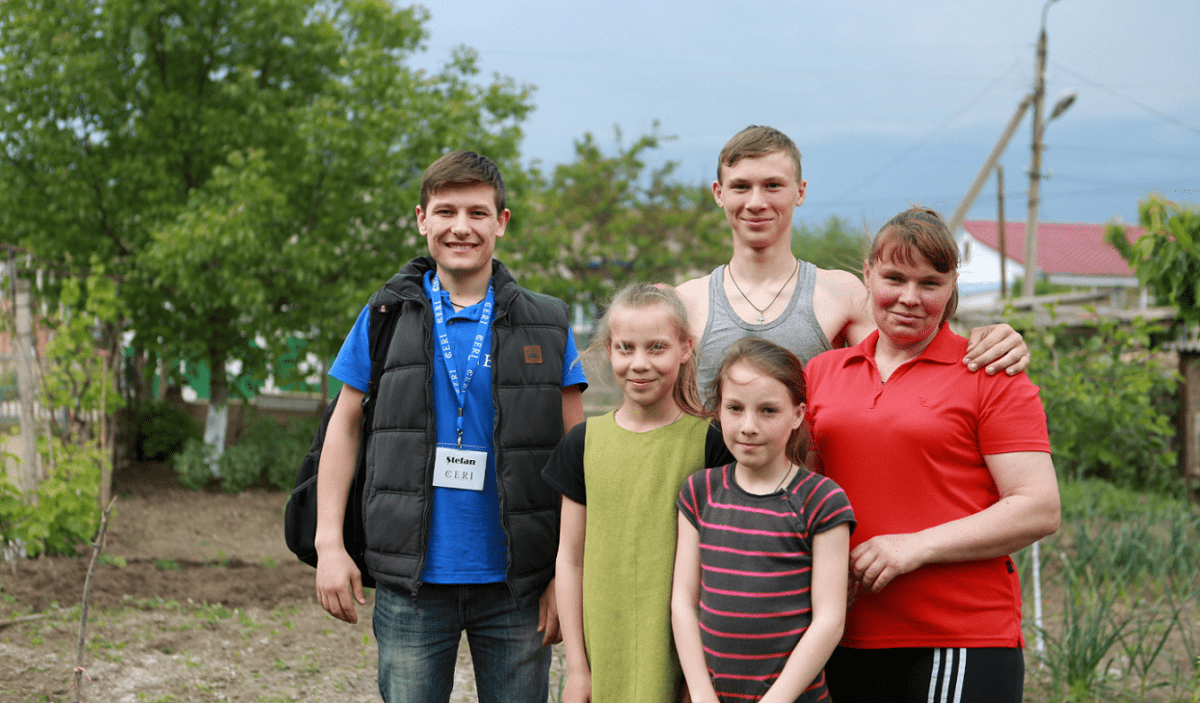 A CERI case manager visits a family to provide support
2. The Shoe Mission connects new people with a common passion
"I have enjoyed meeting people on the trip and growing together in our desires and hearts to serve God…"Kristen, volunteer "…the bond created with fellow team members has been a blessing and spiritual encouragement that has lasted for years after a mission trip ended."Marilyn, volunteer "I learned something from every person on my team…I refer to them as 'my shoe people.' They are some of my favorites. I know their hearts, and I am better because of each of them."Casey, volunteer
3. The Shoe Mission builds lasting relationships for children without a family
The biggest need in a vulnerable child's life is caring individuals who support them in their development. In addition to compassionate orphanage care takers and case managers, children in orphanages need more people who have their best interest in mind.
What happens when the person who cares lives thousands of miles away in a different country and doesn't speak the child's language? Can this person still make a difference in that child's life? Yes!Many CERI volunteers have gone on to become part of a child's circle of support. There's something about meeting a child who has gone through so much and who doesn't have a loving family to grow in. You have a desire to do something. You can't take them home and give them all they deserve, but you can ensure they receive the support they need in their country and language from caring CERI staff.
CERI volunteers who join a child's circle of support become child sponsors. The desire to help, born while on a CERI mission trip, is the beginning of a lasting relationship in that child's life. Child sponsors provide financial support, pray from afar, encourage through letters, visit occasionally and transform a child's life forever.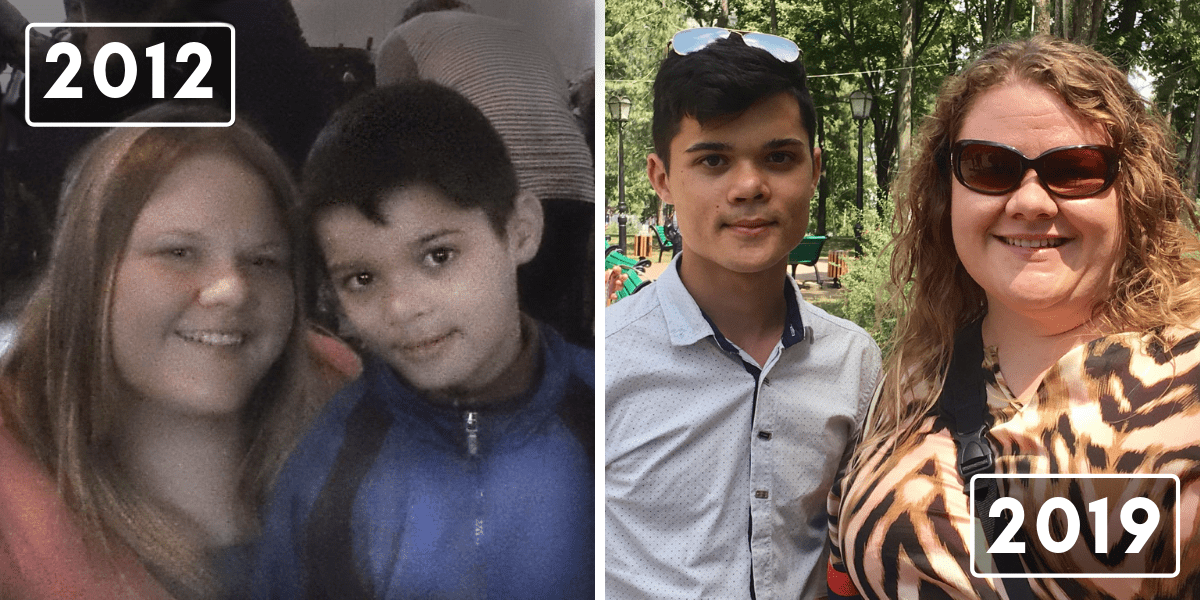 Regina with her sponsored child
When asked what her favorite part of the Shoe Mission has been, child sponsor and Shoe Mission volunteer, Regina, says, "Finding my sponsored child."
The Shoe Mission is the perfect opportunity to meet children whose live can be transformed by relationships with caring volunteers.
4. The Shoe Mission reminds you of what matters in life
"We were approached by a caretaker for one of the children who thanked us over and over through tears of joy…She was so thankful that we traveled across the world to give to these children.  Her emotions were overwhelming and filled my heart with joy."Jeff, volunteer "…each year we witness how love transcends cultural and geographical barriers in unique ways."Russ, volunteer "It was surprising and heartwarming to see what great joy it brought to a child or teen simply to receive a new pair of warm winter shoes that they would be proud to wear."Marilyn, volunteer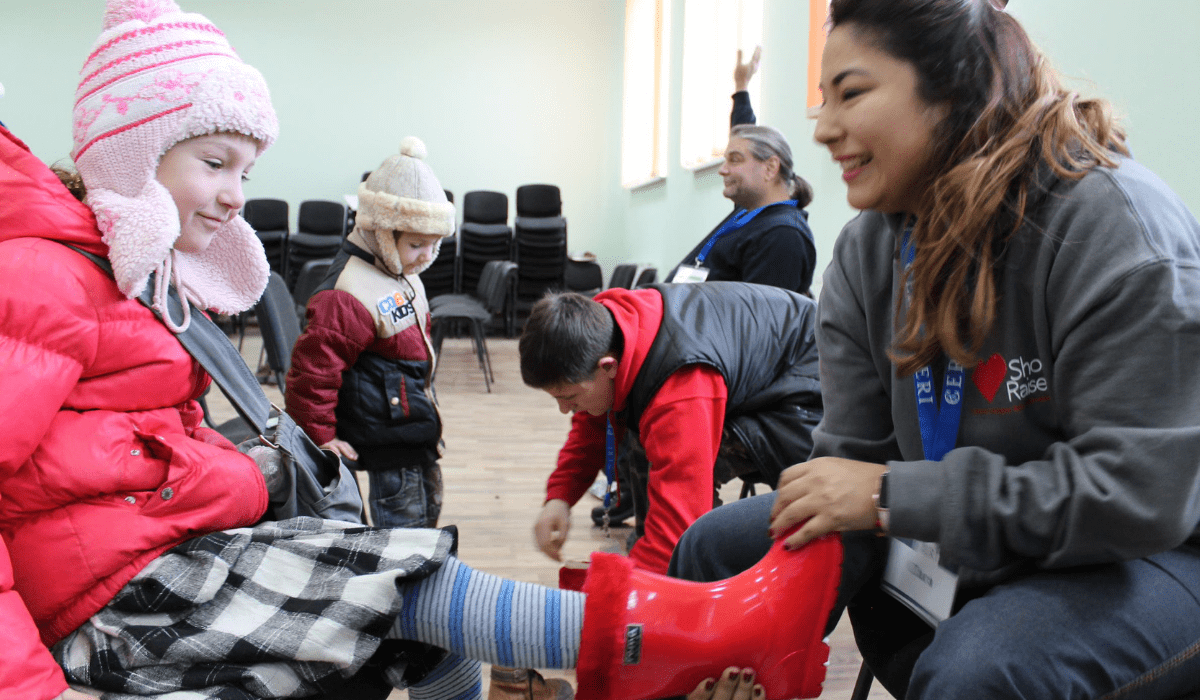 The Shoe Mission is about more than just shoes with an impact that outlives the trip and stays in the hearts of everyone involved.