Keeping children not only safe and healthy, but also happy and entertained during a global pandemic is challenging for parents around the world.
But one local artist in Sri Lanka has come up with something that accomplishes all of those goals – a coloring book that teaches good health habits while also providing children with a fun activity.
The artist, Easwararajah Kularai, has been working with Children's Emergency Relief International (CERI) to help brighten the lives of children sheltering in their homes during the COVID-19 pandemic.
"My hope is to give the children both an outlet for their creativity and some good messages with this series of coloring books," Kularai said.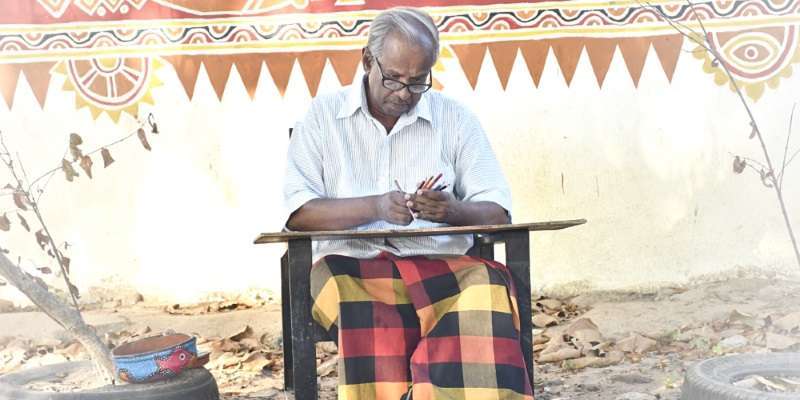 Easwararajah Kularai
The pictures in the book show children in various domestic settings doing the things that health officials have advised they need to do to stay safe.
In one image we see children that have removed their shoes before entering a house and keeping their hands outstretched so as not to touch anything. In the next picture, a child is in the house washing her hands over a sink.
Another picture shows children sneezing into a handkerchief and into the crook of their arm. We see a family sitting in front of a TV while they all practice social distancing. Another image shows a family at the local market all wearing masks. Finally, there is a picture of children showing their gratitude to a group of healthcare workers, saluting and presenting them with gifts.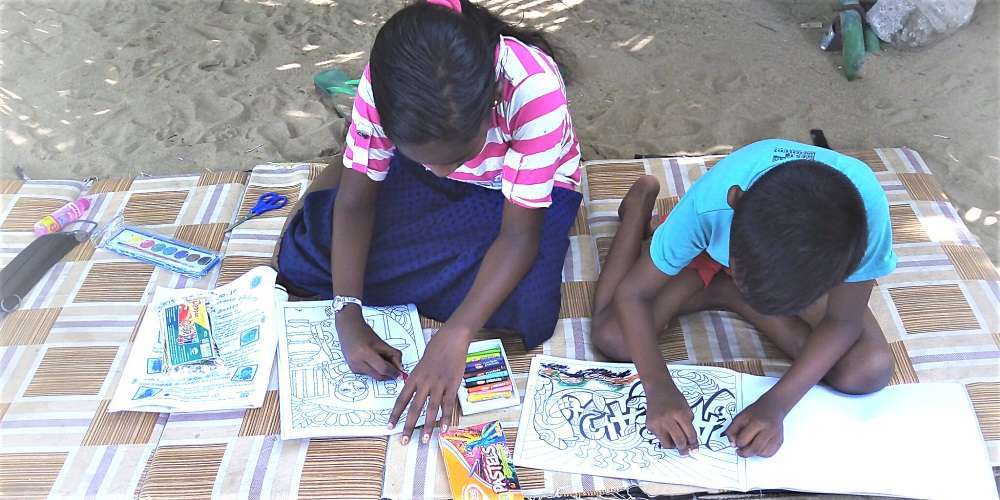 Siblings busy coloring near their home
More than 300 of the coloring books have been printed so far and are being distributed to local children under the purview of CERI, says Dharshan Vijayaretnam, national program director for CERI-Sri Lanka. Dharshan was working with Mr. Kularai as part of the Child-Friendly Municipality Project (CFM) implemented by CERI in partnership with UNICEF in Batticaloa, Sri Lanka.
CFM is modeled on the UNICEF-led Child Friendly Cities Initiative that seeks to promote the rights of children around the world. The program works with municipal governments, private sector organizations, academia and the media to accomplish these and other goals that advance the wellbeing of children.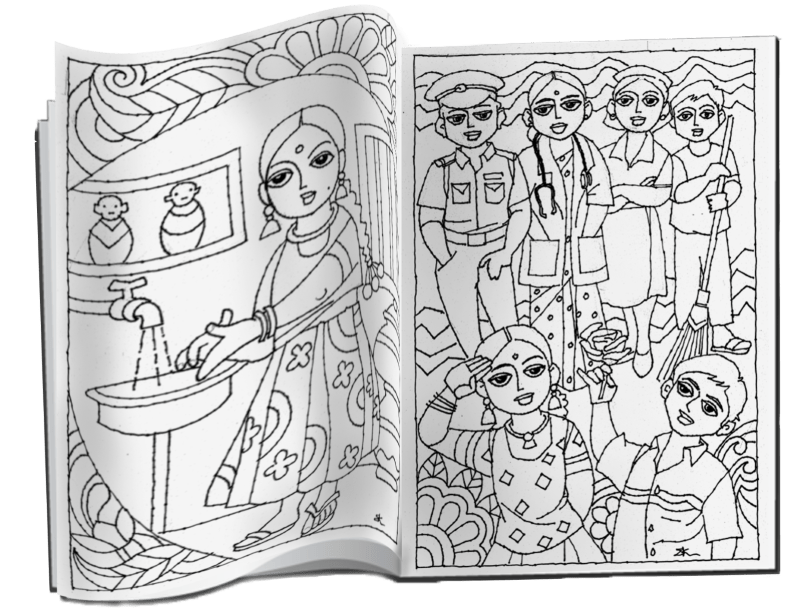 Print a copy of the coloring book that Mr. Kularai generously made available to all children.