The last week of June 2019, a group of volunteers working with partners of Children's Emergency Relief International (CERI) made their way to the land of the Taj Mahal, where spice markets and roaming livestock blend with people on the street, and where thousands of children and families live a life of extreme poverty: New Delhi, India.
The travelers included Anahi Barron, Dorcas Adepoju, Emily Pinedo, Hector Chacon, Jazmin Howard, Jim Bonson, Kevin Neave, Kris Bryant, Martin Bocchino, Donna Coroiescu and myself. There were professionals, students and married couples, all here to help fill a gap in services.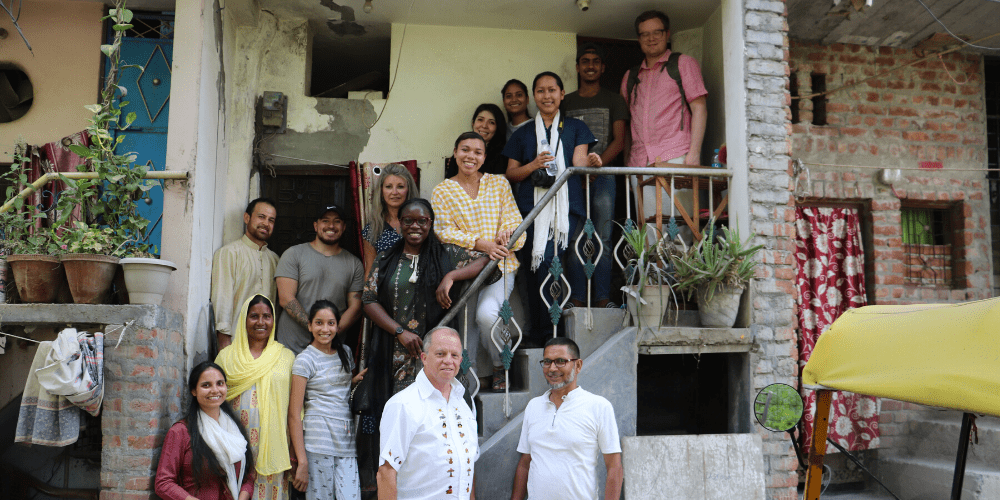 Volunteers and staff outside the Salmani home in New Dehli
On the outskirts of this metropolis, where millions of people live in cramped spaces only a few meters from the busy roadside where hundreds of thousands of commuters pass daily, a mobile medical clinic was established to help refugees resettled in the area. We learned that many of them had survived a horrific journey to India and had witnessed deaths and other dangers along the way.
Now they lived in homes made of bamboo poles tied to plastic tarps, bedsheets and other scraps they found on the street. They had no running water or working toilets. Each of the nearly 350 refugees living in the settlement was expected to receive medical treatment in only a two-day period. Some of the refugees had never seen a doctor or a dentist in their life.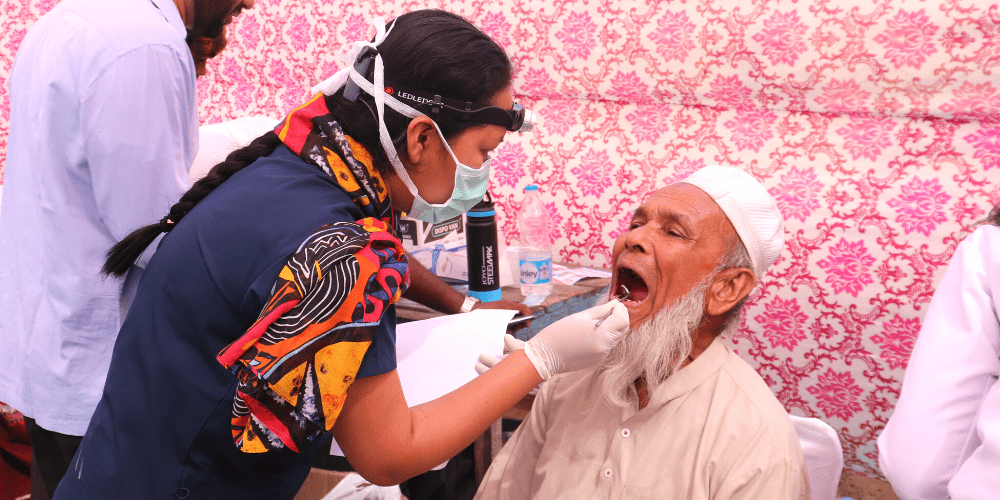 Dentist Emily Pinedo examines an elder looking for relief from years of neglect.
When this group of volunteers began the first day of medical work in the camp, a rickety wooden table with three chairs at the entrance of the tent was surrounded with people waiting their turn. Their conditions included body rashes, worms, burns, malnutrition, dehydration, cuts and sores, abscess teeth and asthma. Children looked much younger than their true age due to a lack of proper nutrition, while the elderly appeared older than their years.
Donna Coroiescu, a longtime volunteer, wore medical scrubs that, by the end of the day, had several rings of dried salt from her own perspiration. While our team's grueling schedule included early mornings and late nights, Donna was the first one on the bus in the morning and the last to board in the evening. She worked with a servant's heart and a leader's mind, watching carefully that the medical clinic ran smoothly and caring for babies while their mothers were treated.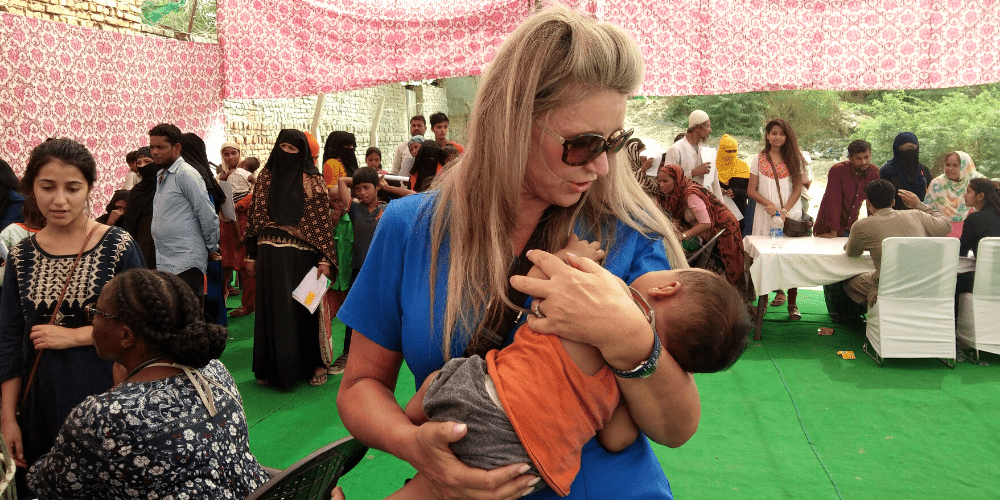 Donna Coroiescu comforts a crying child while mom receives medical services.
Jim Bonson, a veteran and physician assistant, worked with a translator to see as many patients as possible. He took the triage information and tried to delve a little more into their medical history, being thoughtful and thorough in his work and patiently maneuvering through his exams while staying aware of the cultural mores.
Dentist Emily Pinedo traveled from Australia with her husband, Martin Bocchino, to take part in this medical mission. The two teamed with local dentists and dental hygienists to give the people some much needed dental care. They were extremely busy both days as access to this type of care is rare and in demand. The dreaded trip to the dentist, as we know it, was not an issue with this population. They were most thankful to find relief, in some cases to tooth pain that had been plaguing them for months.
Partners and volunteers in India are taking action where it is not easy, where few are willing to take the risks; where profound differences have been made. In return, the hearts and souls of such servants are forever changed knowing they were part of something bigger than them.