South Asia is home to 25% of the world's population. The region's cultural complexity, as well as socio-economic and human rights challenges, prevent millions of vulnerable children from being raised in families. Instead, many of them live in religious or governmental institutions, which are opaque to community life and detrimental to healthy child development.  
The new publication titled "A Review of the Literature on Institutionalization and Child Protection Reform in South Asia" reviewed the child protection policies and practices of all eight countries that are part of South Asia: Afghanistan, Bangladesh, Bhutan, Maldives, Nepal, India, Pakistan and Sri Lanka. With personal and program implementation experience from India and Sri Lanka, CERI staff have identified the gaps and formulated three strategies that could offer millions of children the chance to live with a loving family.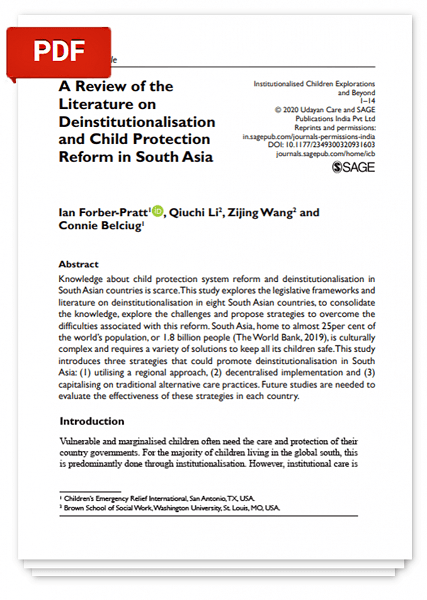 A regional approach to deinstitutionalization will empower researchers to produce evidence that might be applicable to more than one country in the region, moving the reform needle forward for several countries at the same time.       
Decentralized reform implementation would allow larger countries, like India or Pakistan, to make faster progress on the reform and keep its states accountable for their outcomes.
South Asia has to capitalize on its traditional alternative care practices, such as informal foster care, and include them into the overall reform strategy as solutions.
Read the strategies that could offer millions of children a loving family.